BOOK REVIEW "Derrykeighan Old Church Graveyard" By Dorothy Arthur (Self published)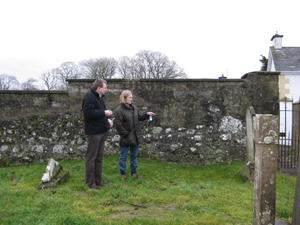 The author, Dorothy Arthur, studying headstone inscriptions at Derrykeighan Old Church Graveyard with Dr William Roulston of the Ulster Historical Foundation.
An executed rebel, a murder victim and a war hero – all in Derrykeighan graveyard
The latest book by well known family historian Dorothy Arthur will be launched in Ballymoney Town Hall on Wednesday, 19 September at 7.30pm and everyone is welcome. Her third publication on local cemeteries, the comprehensive volume focuses on the remarkable headstones to be found in Derrykeighan Old Church Graveyard. As with her previous works (on graves in Ballymoney Old Church Graveyard and the adjacent St. Patrick Parish Church) the book is aimed primarily at the genealogy market and presents a detailed list of the headstones which are to be found in Derrykeighan. However, aside from genealogists, everyone who lifts Dorothy's accomplished work will discover that Derrykeighan Old Church Graveyard is also a place rich in colourful history and well worth a visit.

In the past, this charming country cemetery was often overlooked, obscured at the top of a lane by houses and a motorcycle dealership. In recent years, it has become much easier to find as the road service have helpfully provided a brown direction sign and roadside parking is available, although minimal.

For the family history researcher, Dorothy's book is invaluable and very easy to follow. Dorothy has painstakingly studied all of the headstones, many of which, to untrained eyes, would be completely illegible. Each inscription is carefully transcribed and beside it on the page is a photograph of the grave. Below these details, the author then reveals the story of the family – dates for births, marriages and, of course, deaths; where they lived; who they were related to; their occupation and, occasionally, an anecdotal tale or published account of events linked to their life. Among the names on the 257 headstones, many families are still familiar in North Antrim in the 21st century - Boyd, Cochrane, Dunlop, Huey, Lyle, Nevin, Moore.

For those with no links to Derrykeighan, this is still a fascinating read. With Dorothy's book as a guide, you can find the grave of Lyle Gardner, tragically murdered by his neighbour; or William Dunlop, a rebel of 1798, executed in Coleraine; or Samuel Meeke, a World War One prisoner of war and his heroic brother, John Meeke, who rescued the great Nationalist politician Willie Redmond from the battlefield; or, if you look hard enough, under a spreading shrub you can find the last resting place of Henry McAleese of the RAF, remember on a noble headstone provided by the Commonwealth War Graves Commission.

The oldest headstone in the graveyard belongs to Kathrin Peebles and amazingly dates to 1615. The stone for Robart Kar is one of the most remarkable, dating from 1676 and still legible to the naked eye. Headstones of such an age are not unusual in Derrykeighan; the graveyard has a series of headstones, still in good condition, which are over 200 years old and this makes the information which Dorothy supplies vital to genealogists who are searching for family links in the 18th century.

"Derrykeighan Old Church Graveyard" by Dorothy Arthur will be available at the discount price of £16 for the night of the book launch only; thereafter, it will be available for the retail price of £20 and can be purchased from Ballymoney Tourist Information Centre, Ballymoney Town Hall or by visiting www.ballymoneygraveyard.com . On the 23 September, members of the public are also very welcome to join the author on a tour of Derrykeighan Old Church Graveyard, beginning at the graveyard at 3pm (admission free).