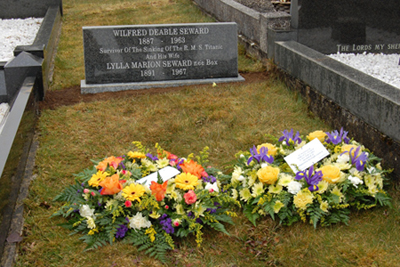 Last Friday, Ballymoney Cemetery was the scene of a private ceremony to dedicate a new headstone on the grave of Wilfred Seward, a survivor from the sinking of the RMS Titanic.

Wilfred Seward was Chief Pantry Steward on the ill-fated ship when it sank with the loss of 1,500 lives on the night of the 14 April 1912. Wilfred spent 2½ hours in the freezing water before he was rescued by the RMS Carpathia with the other 704 survivors. In later life, Wilfred returned to sea as a crew member on ocean liners. In 1954, he retired to Ballymoney with his wife, Lylla, and their daughter Doris married a local man, Robert Patterson. Wilfred died in 1963, within a year of the 50th anniversary of the sinking; Lylla sadly passed away four years later.

In 2012, during the centenary commemorations, Wilfred's story began to attract considerable media interest. In addition, members of the public became aware that he and his wife lay together in an unmarked plot in Ballymoney Cemetery, a poignant fact which prompted Andrew McMullan, of James McMullan & Son, to approach Ballymoney Borough Council with a generous offer to provide a suitable headstone to place on the grave.

Ballymoney Museum also hoped to contact Wilfred and Lylla's relatives and, at first, none could be traced. Then, by chance, a great grand niece of Wilfred Seward living in England discovered a story on the internet and immediately got in touch with Ballymoney Museum. Jackie Peacock (née Seward) was delighted to learn of the plans to mark the grave and was very moved by the generous gesture of James McMullan & Son.

Jackie and her family made the journey for the dedication ceremony which was also attended by guests including the Mayor of Ballymoney, Councillor Evelyne Robinson, Bryan Patterson (Belfast Titanic Society) and the Mayor's chaplain, Reverend Ian McNie who led prayers and the wreath laying at Wilfred and Lylla's graveside.

Visitors to Ballymoney Cemetery are asked to please have respect for graves. Opening hours are April–September 9am-9pm and October–March 9am - 4pm.