On the 6th October 1942 at 18.54 a Halifax M II bomber took off from R.A.F. Topcliffe, Yorkshire, with Osnabruck, Germany as its target. Among the seven crew on board, acting as the gunner, was a young Sergeant from Co. Antrim, named Francis Anthony McCluskey. The plane did not reach its intended target. Close to midnight it was shot down by a night fighter over Rhenen, The Netherlands. Unfortunately, Sgt McCluskey was killed and he is buried in a Commonwealth War Grave in Rhenen General Cemetery.

Fast forward to the modern day. Toon Blokland, a retired officer of the Royal Dutch Army and a member of the Historical Association of Rhenen, has a keen interest in military history around his hometown. He came across the story of the bomber and found Sgt McCluskey's grave, but had little information about the man. With a bit of work he was able to fill in some of the missing details. Sgt McCluskey was a 20 year old Royal Air Force Volunteer Reserve with 405 Squadron Royal Canadian Air Force. The crew on board the bomber with the young County Antrim man consisted of five Canadians and one Scottish man. When the plane was shot the crew bailed out. Tragically, Sgt McCluskey's parachute failed to deploy and he drowned in the River Rhine. The rest of the crew were captured and sent to Prisoner of War Camps, Stalag 344 Lamsdorf and L3 Stalag Luft Sagan, the latter made famous in the film, The Great Escape. Most importantly, Toon discovered that Sgt McCluskey was in fact from Ballymoney.

With knowledge of Sgt McCluskey's hometown, Toon contacted Ballymoney Museum asking for help locating more information. The Museum was able to find out that Sgt McCluskey's grandmother was living on Union Street at the time of the tragedy and was informed by telegram that he was missing. He had been recently promoted. Interestingly, his father, also Sergeant Francis Anthony, had served in the R.A.F. during World War I and enlisted again during World War II. Ballymoney Museum is currently working with Toon to discover more about Sgt Francis Anthony McCluskey and the story of his doomed flight.

If you have any information about Sgt Francis Anthony McCluskey or his family please contact Ballymoney Museum, Ballymoney Town Hall, Townhead Street, Ballymoney, BT53 6BE, Tel: 028 2766 0230 and Email: museum@ballymoney.gov.uk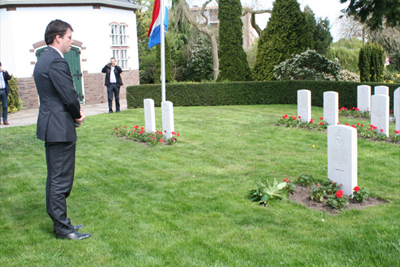 The Mayor of Rhenen lays a wreath at the grave of Ballymoney man, Sgt Francis Anthony McCluskey, as part of the Remembrance Day commemorations in The Netherlands, 4th May 2013. Can you help provide any information about Sgt McCluskey or his family?