Heritage > Famous Emigrants > Caldwell Family of Harmony Hill
John Caldwell Snr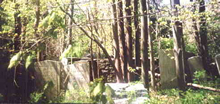 In the late 18th century, the town Balnamore, near Ballymoney, was known as Harmony Hill, and one of the prominent families living in the area was the Caldwells. They were an old family - some of their descendants had survived the Siege of Londonderry in 1689, and later moved to America to found the town of Londonderry, New Hampshire.
The Caldwell family graveyard, Salisbury Mills, New York. Photograph: Alice Naughton, NY
John Caldwell Snr, born 1742, was a man of considerable wealth and owned a mill and substantial land. He was a Captain in the Ballymoney Volunteers and in 1783 he had been instrumental in enrolling a local Roman Catholic, Daniel Maxwell, into their ranks. This made Ballymoney one of the only Volunteer Companies in Ulster to have a Roman Catholic member.
John Caldwell's sons, Richard and John, both became members of the United Irishmen. Their father knew little of the United Irishmen or his sons' involvement, until the morning of 9 June 1798 when Major Bacon, on orders from Lord Murray, arrived with the Yeomanry to burn his house and mill. Ironically, Major Bacon had been John Caldwell's guest only days before.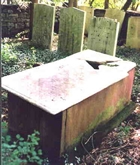 The family was allowed five minutes to bring the children to safety, and then they gathered on the lawn to watch their home destroyed. Neighbours came to their aid and, after two days living beneath a carpet hung between two hedges, the family moved into one of their old mill bleachery buildings. Richard was sentenced to be executed, but his father managed to have this repealed and instead he was ordered to be deported.
But the McNaghten family, one of whom had presided over Caldwell's trial, opposed the leniency being shown to him and used influence to have it overturned. They appealed to General Nugent, commander of the forces in the North, and the sentence was reviewed, ultimately forcing the entire family into voluntary exile.
Vault of John Caldwell Snr and others. Photograph: Alice Naughton, NY
Richard sailed for America in September 1798, young John left the following month but was forced back by bad weather. Given leave to remain in the country, young John sailed with his relatives the following May. His father was allowed a further extension of his stay, and eventually the family was re-united in America, in August 1799. They eventually settled at Salisbury Mills in New York State, where the family cemetery may be seen today.
Richard Caldwell
Richard Caldwell was 18 years old when he led his army of Rebels to Ballymena on 9 June 1798. He had been involved in the secret society as a teenager, and by the year of the Rebellion he had been chosen as a Colonel. The United Irishmen army collapsed at Ballymena as Colonel Clavering approached with the government forces. He agreed not to burn the town if the insurgents laid down their arms and left Ballymena within four hours. Richard Caldwell and the rest of the Rebels then fled the town.
At Richard Caldwell's trial, evidence was given by Lieutenant Brady of the Dunluce Infantry. Brady had been taken prisoner by the United Irishmen, and a Rebel General, James Dickey, had threatened to kill him. In the midst of the confusion, Brady attempted to escape, however he was stopped by Caldwell. When Brady told him of Dickey's threat, Caldwell claimed that he too had been threatened by Dickey for accepting General Clavering's terms of surrender, and that Dickey had said he was going to 'blow his brains out'. Caldwell later helped Lieutenant Brady to flee the town, concealing him in a broken carriage.
Richard Caldwell and John Gunning, a fellow ranking United Irishman from Ballymoney, had made their way to Cushendall by Thursday 14 June, where they met a man named Charles McDonnell. All three sailed for the Mull of Kintyre the following day. By Saturday 16 June, Lord Henry Murray had offered a reward of 50 guineas for the capture of Caldwell and Gunning, along with John Nevin. A customs collector at Campbelltown on the Mull of Kintyre was asked to search for Caldwell and Gunning. In the letter to the customs collector Richard Caldwell is described as: 'About 5 feet 10 or 11 inches, 19 or 20 years of age, smooth faced, with short hair described as fair to brown, rather heavily built, in sailor's dress. A Colonel in the rebels.'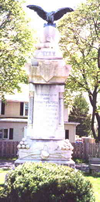 On Friday 22 June, a week after landing in Kintyre, Richard Caldwell and John Gunning were arrested at Kilcalmonell and brought back to Coleraine for trial. At Caldwell's trial, witnesses such as James Clark, a Revenue Officer, and James Crosbie, a servant from Stranocum House, testified against him. James Parks (who married Caldwell's sister Catherine in 1805) stated that he had taken the Oath of Allegiance with Caldwell and since that time he had not known him to participate in the United Irishmen.
Nevertheless, the evidence against Richard Caldwell was strong, and he was sentenced with John Gunning 'to be hanged in the town of Ballymoney by the neck until dead, his head to be severed from his body and placed on a pike on the market house in the town'. Fortunately, as previously mentioned, Richard's father used his influence to have this death sentence repealed to voluntary exile, but the entire family was forced to join him. It was also lucky for Gunning - his sentence was repealed as well and he was deported to Botany Bay
Caldwell's life in America was tragically brief. In 1812, aged 35 years, he helped organise a large company of men from his new home in Orange County, New York. As their Captain, he marched with them to confront the English forces in Canada. However, en route he fell ill with dysentry. His health failed further as they struggled through fierce storms when crossing Lake Champlain and he died before reaching the Canadian border.
Memorial to Richard Caldwell and his men, Town Square, Salisbury Mills, NY. Photograph: Alice Naughton, NY
John Caldwell Jnr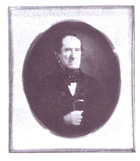 Born in 1769, the young John Caldwell joined the United Irishmen in 1793 'to win freedom for our countrymen, no matter what their race or creed'. He refused to take part in military action, and concentrated on organising a lottery to raise funds for United Irishmen imprisoned by the authorities.
Photograph of John Caldwell Jnr 1769-1850 Photograph courtesy Mary Midgley
On 19 May 1798 he was arrested for High Treason. Edward McNaghten, the same man whose family protested when his brother's sentence was reduced, interrogated John while he was in prison. McNaghten tried to make Caldwell inform on his colleagues, sending him a document to sign which implicated many of his friends. John Caldwell returned the paper to him marked 'Rejected with scorn'!
John was released after the rebellion to be deported with his other brother William, described by the authorities as a 'Rebel General' despite being less than twelve years old! Their boat, 'The Pallas' sailed on 9 October 1798, however it was forced back into harbour at Cork due to bad weather. The two brothers were then allowed to delay their departure until the spring, however John did not return to Harmony Hill until February as he was detained and interrogated once more in Dublin. On 3 May 1799 he eventually sailed with his family to America.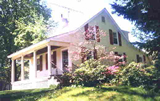 House built by John Caldwell Jnr, c.1820 in Salisbury Mills, NY. Photograph: Alice Naughton
In America, John Caldwell Jnr remained very politically active and associated with many former United Irishmen. Before his death he wrote an account of his life, a copy of which is held in the Public Records Office of Northern Ireland.