Heritage > Famous Emigrants > K.K. McArthur
Dervock born and bred
On Sunday, 14 July 1912, the name of K.K. McArthur was added to Olympic history when he triumphed in South African colours at Stockholm, Sweden. However, nowhere was McArthur's marathon victory celebrated with more pride than in his birthplace, the village of Dervock.
Kennedy Kane McArthur was born on 10 February 1881 and spent his early life in North Antrim. He attended Dervock Upper National School and on leaving became the local postman. The figure of 'Big Ken' was a familiar sight in the neighbourhood, sprinting along the country roads with his postbag on his back. Although he was recognised as a promising athlete, McArthur did not pursue a career in sports and instead he set off to seek his fortune in South Africa.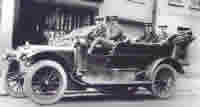 After settling in Johannesburg, McArthur joined the police force and before long he began to take his running more seriously. At 6'3"and 170lb, he was not an obvious selection for long distance running, but he was soon defying his critics by effortlessly securing the Transvaal half and one mile championship, the five mile track championship and also two national cross country championships. Despite these successes, McArthur was not selected for the athletics team that travelled to the London Olympics in 1908.
Determined to prove himself, McArthur ran his first marathon late in the 1908 season. In this remarkable race, McArthur beat the recently returned Olympic silver medalist, South African Charles Hefron. With such notable victories, and numerous track records, McArthur was soon competing at an international level - his selection for the Olypmic team in 1912 was inevitable.
"Come on Antrim!"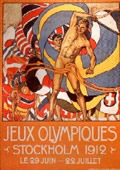 The Stockholm Olympic marathon took place in sweltering heat and everyone knew the temperature would be a deciding factor. McArthur and his team mate Christopher Gitsam ran together and by the later stages were at the head of the 68 strong field. Confident of victory, Gitsam stopped for water, expecting his colleague to join him, as agreed. Instead McArthur ran on, stretching his lead and taking him to certain victory.
As he reached the finish in the packed stadium, McArthur was suffering from the fatigue of running 26 miles in the sweltering summer heat. Struggling badly, he almost collapsed as he approached the line when a well intentioned Swedish spectator placed a huge garland around his shoulders. His legs giving way, it was then that McArthur heard a voice from the crowd urging him on in a familiar accent:
"Come on Antrim, come on ye boy ye!"
It was enough to give McArthur the boost he needed and he crossed the line as the Olympic Marathon Champion after 2 hours 36 minutes and 54.8 seconds - a new Olympic record and 58 seconds ahead of his silver medal winning team mate Gitsam.
Following his triumph, McArthur delayed his return to South Africa and travelled instead to his birthplace. In Dervock his friends and relatives had been proudly following his progress. On his arrival at Ballymoney railway station huge crowds gathered to salute their hero. He was carried on the shoulders of the crowd to a carriage, on which he was brought to the Town Hall pulled, not by horses, but by the men of Ballymoney. At the Town Hall, after a fine reception, a large bronze plaque was unveiled in McArthur's honour. Then, as the day drew to a close, McArthur took the short trip to Dervock where he was greeted by a candle lit procession.
Career ends with injury
The sporting career of K.K. McArthur was short lived. After less than a year as Olympic Champion he injured his foot in an accident and was forced to retire from athletics. Over the years he made many return visits to Dervock and settled there briefly on the family farm between 1931-36. However, his Dutch born wife was unhappy with the North Antrim lifestyle and they soon returned to South Africa where he died, aged 79, in 1960. His trophies and other memorabilia can be seen today at the Potschefstroom Museum.