Heritage > Famous Emigrants > Robert Hannah
Robert Hannah
The Ballymoney man who put shoes on half of New Zealand!
Although not a name well known around Ballymoney, in his adopted home of New Zealand, everyone has heard of Robert Hannah's shoes!
Robert was born 10 September 1845 on the Hanna family farm near Ballymoney. In his early years, he was apprenticed to a cobbler in Kilrea, however he later emigrated to Australia in 1863, allegedly after an argument with his father.
On his arrival in Queensland he experienced hard times. Inexplicably, it was here he added an 'H' to his surname.
By 1866, Robert had moved to New Zealand where the gold rush offered lucrative opportunities. He doesn't appear to have been tempted by prospecting and chose to earn his wealth by business ventures. Family legend claims that one of his first jobs was at a profitable casino for miners, which also offered a bar, restaurant, shows and dancing girls!! By January 1868 he had enough money to open his first boot shop in the town of Charleston. His business rapidly expanded and within four years he took over a rival shop 'The Golden Boot'.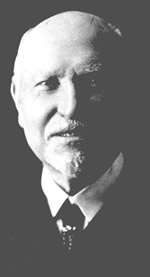 Unfortunately, less than six years later, the gold seams were almost exhausted and the people of Charleston moved on to richer territory. Left with no choice, Robert followed them.
Robert had probably intended to settle in California, where another gold rush attracted thousands of hopeful pioneers. Whatever his plans, he only travelled as far as Wellington. There he decided to open another footwear shop, named Robert Hannah & Company. The shop proved so successful that he remained in Wellington for the rest of his life. By 1897, he had been joined by his younger brother, William, and had 10 branches of his store on the North Island. He was, by then, also married to another Irish immigrant, Hannah Ferguson, who ironically then became Mrs. Hannah Hannah.
Robert began to add to his wealth by investing heavily in property and he gained the reputation of a 'shrewd, hard businessman'. Despite this, his staff were well paid and in return he was highly respected by them. As his fortune grew, he also began to invest in the manufacture and import of footwear and at one time he commanded half the shoe trade in New Zealand.
In 1904, aged 58, he commissioned the architects Thomas Turnbull & Son to design an Edwardian mansion. A year later, Antrim House was completed, and the Hannah family, which included seven adult children, moved in with their four servants.
Robert Hannah died in 1930, aged 85, and his business continues today. Some of his descendants still live in the Ballymoney area. Antrim House was later leased as an exclusive guesthouse until 1949, when it was bought by the New Zealand government. In 1978, it was presented to the New Zealand Historic Places Trust (NZHPT), who use it today as their national administrative headquarters.
With thanks to New Zealand Historic Places Trust and Ballance House, Co. Antrim.
'Robert Hannah, Ballymoney footwear entrepreneur. (Courtesy New Zealand Historic Places Trust)'